The Future of Work Company
World class end-to-end workplace solutions that inspire.
Strategy and Technology
With the world of work fundamentally changed, it is incumbent upon workplace leaders and practitioners to reimagine workspaces as flexible.
Program Management
Managing tenant improvements, construction and move projects on time and on-budget in a post-pandemic era.
Operations and Maintenance
Keeping your space clean, well maintained operationally, financially, and environmentally sound manner.
Talent Acquisition and Staffing
Finding you qualified CRE and FM talent to support your staffing needs in this new workplace that has become distributed, hybrid and flexible.
Branding Wayfinding & Signage
It is becoming increasingly important for corporations to evolve their workspaces as market demands are driving changes to in-office, hybrid, and remote working.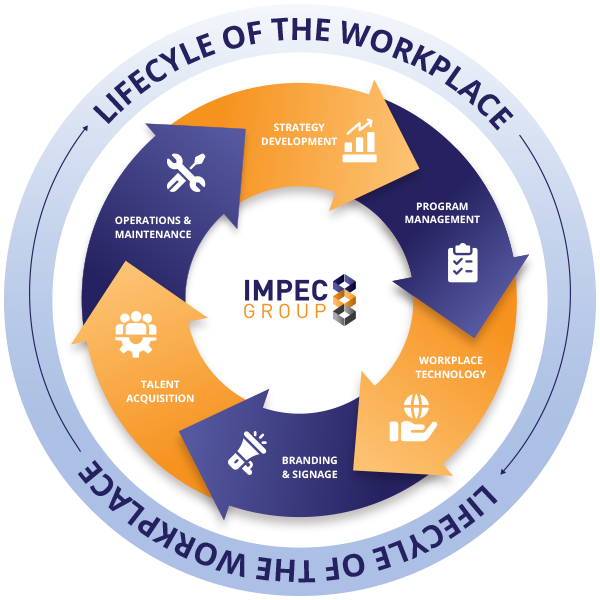 What is the Future of Work?
Although various modalities of work existed prior to the pandemic—such as working from home and co-working or third spaces—these options accelerated during the pandemic and impacted how we use and how we measure the value of space. In effect the very meaning of work, the "where", "when" and "how" we work, has been radically transformed. New labels like hybrid and flex working became part of our currency when talking about workplaces.
Bay Area concentration with global presence
We are big enough to compete, yet small enough to care.
Customer driven and employee centric
We are 100% focused on client and employee needs.
Flexible and scalable solutions
Cross-functional workplace solutions that grow with you.
"When you partner with Impec Group, you are choosing a company that invests in people and gives back to the community."

Christine Chen

CFO and General Manager